Women of Genre Fiction Reading Challenge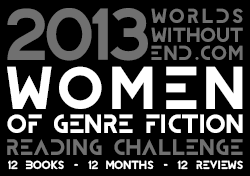 I decided to join the World's Without End Women of Genre Fiction reading challenge when i realized i already had 10, new to me, female-authored genre books sitting on my shelves at this very moment! I can also read at least two for class this semester as I'm taking children's literature (below age 12) and have to read several books for that class that I get to choose myself. Plus I have Young Adult Lit coming up in the summer and again there will be heavy reading. If nothing else, succeeding at this will get 10 books off my TBR! Here's my list:
Susanna Clarke

Nancy Farmer

Cornelia Funke

N.K. Jemisin

Patricia McKillip

Robin McKinley

Kate Elliot

Beth Revis

Maggie Stiefvater

Elizabeth Bear
Want to jump in? You have to join World's Without End, it's free. You choose 12 different female authors that you haven't read before, though they don't have to be done in advance and that can be changed anytime, and one has to be a randomly selected. I haven't decided how to figure out my random one just yet as well as my 12th. There's a big range of authors from classic sci-fi, romancey alternate history, to high fantasy and steampunk. Hop over and sign up!