Between Shades of Gray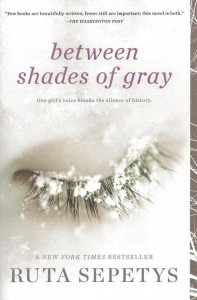 Another school book done! This leaves me with like, 8 left. They are fast reads though. I finished Between Shades of Gray by Ruta Sepetys. I has nothing to do with bondage but is a YA novel taking place during WWII. In Lithuania and the USSR. Lina is 15 when she and her family are taken by the Soviets and sent to work camps, not due to religion but politics. The trek to the first camp is full of horrible happenings and the terrible things continue when they arrive at a camp. The guards are vicious and capricious, the people are starving and freezing. It's all so senseless. Lina was a budding artist and expresses herself through the art she is still able to create.
This is the first of my summer school books that I didn't love. I feel like I appreciated what the author was trying to say and it certainly gave me an sense of thankfulness towards my ancestors. My double-great grandparents (from which I get my atypical last name) packed up their kids and emigrated to the US from Bulgaria around 1905. Part of it is that there is a jump at the ending; we are in Siberia then jump forward many years to Lithuania again and I wanted to know what happened in between. Also, i hate to admit it, I kinda didn't like Lina. I mean, i felt terrible for her, and i was certainly rooting for her throughout the novel. But she seemed so naive for so long. Perhaps it was a bit of a book hangover from Code Name Verity where the women are just so strong that Lina couldn't quite keep up. It's a 5 for me but I do recommend it. After you read Code Name Verity anyway.
I do like the author's style in general though and her second book, Out of the Easy, takes place in New Orleans in the 1950's so I may pick it up sometime after this summer.